"Antituberculous dispensary" CJSC
View on map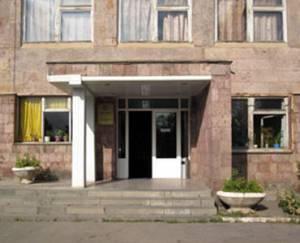 With the integration of all the antituberculous dispensaries of Yerevan, the urban antituberculous dispensary was founded in 1987. The organization reveals, diagnoses and treats the patients with tuberculous. There are all the necessary equipments for free, qualified, professional service of the population. The dispensary has an in-patient department with 48 hospital beds, where 280-300 patients are traeted, 150-200 intuctees are undergone medical expert examination: 9-10 thousand fluorographic and 4-5 thousand X-ray and layered investigations are done in the department of X-ray and fluorography.
The laboratory department consists of clinical and bacteriological laboratories, where general, biochemical examinations of blood, 4-5 thousand analysis of urine and 5-6 thousand examinations are done. The department of diagnosis consists of pulmonary, children's, extrapulmonary, sonographic and ERF cabinets, which hold 5-6 thousand consultations yearly on the basis of warrants from all medical institutions of Yerevan.
Here sonographic examinations are done for 950-1000 people and ERF for 350-400 people. The dispensary cooperates with all the defense ministries of the RA, it is the basis of the chair of phthisiology of NIH, where residents physicians get post-graduate education and all the family, local doctors and their nurses of RA attend qualification trainings.
The director of antituberculous dispensary is c.m.s., docent, head of the chair of phthisiology of NIH, the mail phthisiatrician of Yerevan is Mkrtich Mkrtchyan.
Address: Kanaker-Zeytun,
Rubinyanc 7 lane,
Tel.: (010) 62-59-00
E-mail: tbcc@mail.ru, antitub@ucom.am