Armenian State University of Economics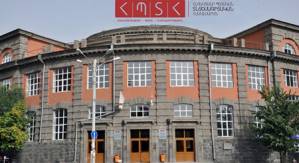 The cooperative-economic institute was founded in 1930. Later, for more than 40 years it functioned as a Faculty of Economics at Yerevan State University. The newest history of the institute started on August 6, 1975 when Yerevan Institute of People's Economy was formed. According to the decision of the Government, in 1999 the HEI was renamed into Yerevan State Institute of Economics and on June 6, 2006 it got the status of a university and was named Armenian State University of Economics. Since September 1995, according to the Government's decision, the university started the new academic year in the new building located at 128, Nalbandyan street.
The university provides Bachelor and Master programs, as well as post-graduation program (intramural and extramural), by credit system.
Since April 26, 2011 the Rector of ASUE was assigned Doctor of Economics, Professors Koryun Atoyan.
On December 28, 2018 acting rector was assigned Doctor of Economics, Professor Ruben Hayrapetyan.
ASUE has educational and scientific ties with many universities worldwide and is rapidly expanding the geography of these ties.
ASUE has the following faculties: Faculty of Management, Faculty of Regulation of Economy and International Economic Relations, Faculty of Finance, Faculty of Marketing and Business Management Faculty of Computer Science and Statistics, Faculty of Accounting and Auditing.
Address: Yerevan, 128 Nalbandyan street
Tel: (+374 10) 52 17 20
Fax. (+374 10) 52 88 b64
E-mail: asue@asue.am
Website-www.asue.am