Avan Temple (ruined)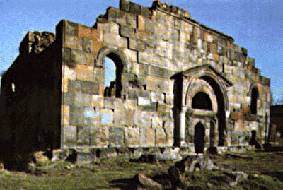 The Cathedral is situated at the northern part of the Avan village in a tumbledown state. It has an important place among the treasures of the Armenian medieval architecture. The Cathedral of Avan was built during the short rule of the anti-throne Catholicos Hovhan Baghavantsi at the end of the VI century, when Armenia was deprived of the statehood and was divided between Persia and Byzantium.
Disseminating Chalcedonism, Byzantium wanted to consolidate its domination in Armenia, with the objective of creating the Central Anti-throne Catholicosate of Dvin of the Armenian Apostolic Church and of ordaining Hovnan Bagavantsi as Catholicos (591-603). The Cathedral and the Catholicosate in Avan were built at that time. The exact date of the destruction of the Cathedral is uncertain, but it is considered that it also became a victim of the earthquake in 1679. The walls were preserved along the whole perimeter: in the eastern part they are low, in the others they are rather high. The partial reconstruction and reinforcement of the Cathedral were made before the World War II by the State Committee for the preservation of monuments under the leadership of Nickolay Tokarsky, an historian of Armenian architecture.