Chapels of Avan (ruined)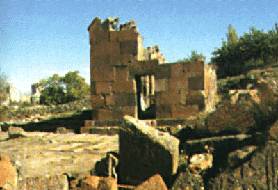 The St. Hohannes and the St. Astvatsatsin chapels are situated in the gardens of Avan, to the south of the village, on the slope of the hill. Though they are of different size they are both of the same type and belong to the single-nave, arched-roof group of churches. By the cursory inspection T. Toromanyan dated them to the XIII-XIV ages, however according to investigations, they are much older.
Though, they were reconstructed in the Middle ages, they preserve such details which are characteristic of the early Middle ages. Both chapels were destroyed by the earthquake in 1679 and have not been restored since. The chapels were partially reconstructed in 1968 by the State Committee for the preservation and renovation of monuments, the environment of the chapels has also been improved.