Church of Holy Cross of Yerevan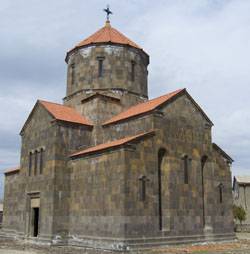 There was no Church in the community Nerkin Charbakh of Yerevan. Upon the decision of Yerevan municipality territory was allocated for the construction of a church. The construction of the Church of Holy Cross according to the project of Architect Hrach Gasparian started in 1996. In October 2006 the construction work came to end. The domed church is of traditional architectural style; on both sides of the nave are sacristies. There is no bell-tower, but its project is ready and soon the bell-tower will be built. The famous work of the artist Vardges Soureniants called "Hayouhi" is installed on the main altar. The initiator of the church construction and the benefactor is Khachatour Vardanian, a resident of the community. On November 10, His Eminence Archbishop Navasard Ktchoyan, Vicar of Araratian Patriarchal Diocese, consecrated four columns, sacristies, baptistery, icons and banner of the Church of Holy Cross.
On November 11, His Eminence consecrated also the main altar of the Church. Following the consecration the first Divine Liturgy was celebrated in the Church.