A new Ropeway construction in the city of Yerevan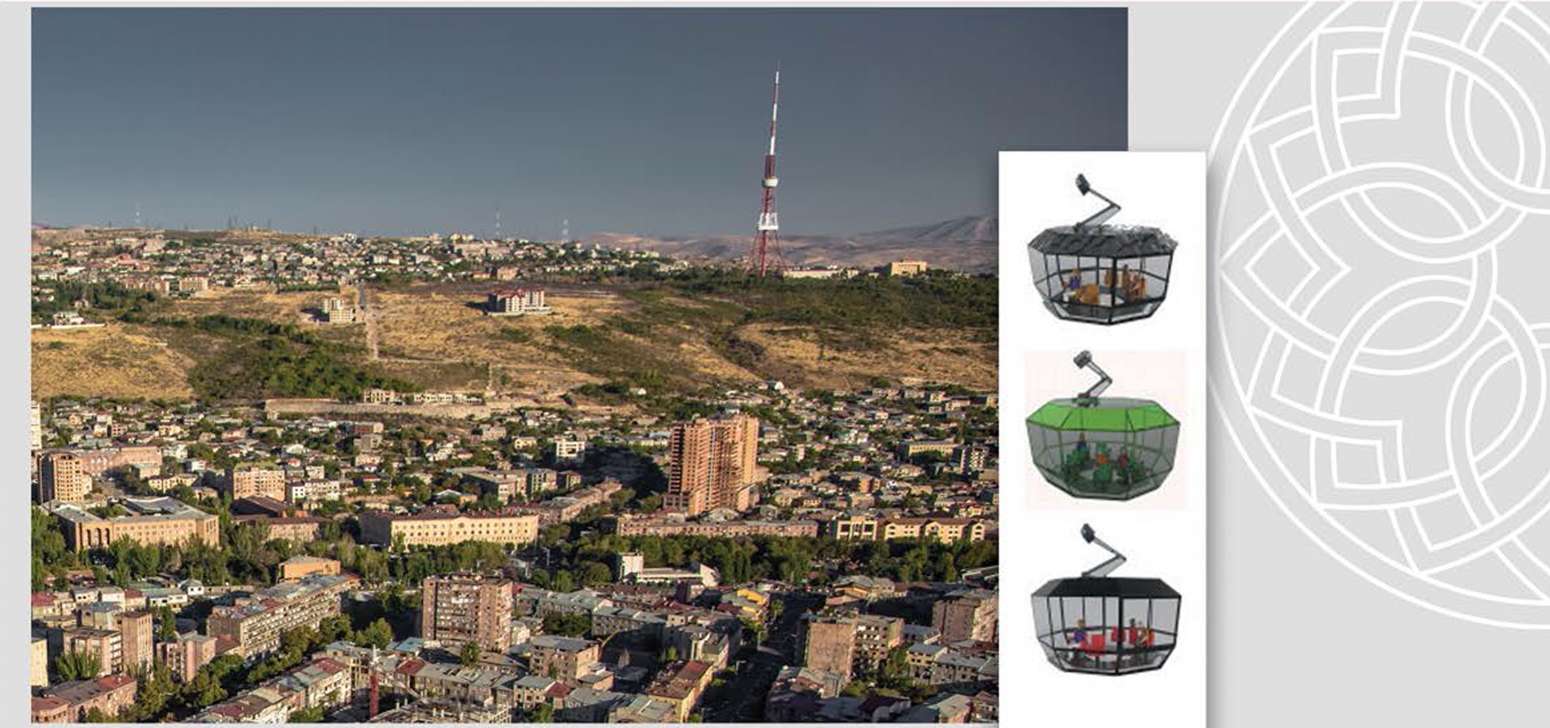 Kentron, Kanaker-Zeytun, Avan administrative district
Project Description. The Yerevan ropeway was built in 1967. It used to connect the city center (Heratsi street) with the Administrative district Nork Marash. The number of transported passengers amounted up to 500. Since the accident in 2004 the Yerevan ropeway has terminated its operation.
The goal of this project is to restore this mode of transport in Yerevan and to develop it by using it as a type of urban public transport.
The ropeway in Yerevan can be used efficiently complementing other common types of transport and solving transportation issues. Given the complex geographical terrain or other obstacles it is beneficial compared to other modes of transport.
Being one type of passenger transport, the city ropeway is both a very significant element in increasing tourism attraction and a substantial investment in the development of tourism infrastructures.
Technical Data. The following options are proposed:
Option one. Ground level station –the Park of Komitas, intermediary – "Mother Armenia" statue(Victory Park), Administrative district Kanaker-Zeytun – intersection of Dro and Sevak streets, Second Community of Avan Arinj District. Total length: 6222m, capacity: 2400 - 3000 people per hour.
Option two. Mashtots avenue –the section of Main avenue, intermediary – Halabyan street – Tumanyan Park, 16th District 2nd stretch. Length: 5168m, capacity: 2400 - 3500 people per hour.
Option three. Vicinity of St. Grigor the Illuminator Church (Circular Park), intermediary: Administrative district Nork Marash, Nor Nork 2nd Micro-District, Gai avenue. Length: 5345m, capacity: 3000 people per hour.
Option four. "Tashir" mall (intersection of Tigran Mets, M. Khorenatsi and Y. Kochar streets), intermediary: Sari Tagh 12th street, central area of 7 and 8 Micro-Districts of Administrative District Nor Nork.
Option five. Tamanyan Park, intermediary:Monument of the 50th Anniversary, the section of N. Zaryan street and Komitas pass (The Northern Ray Building), Nor Arabkir Park.
Based on the proposal of an invester other sites of the ropeway construction may be considered.
Project Deadline. Construction duration: around 3 years.
Project Costs. The project cost is around 10 bln AMD. The estimate was calculated based on the route of 5–6 km.
Investment Type and Fundamental Terms. The project is envisaged to be carried out in the framework of cooperation with the private investor. In case of private investments Yerevan Municipality will assist the investor in providing information to the latter regarding legal status of the land as well as in acquisition of documentation required for the project implementation. Yerevan Municipality will also assist in designing an implementation program and process structuring.
Present State. Possible options for the routes of the ropeway are available.