Establishment of "Noahland" historical archaeological and tourism center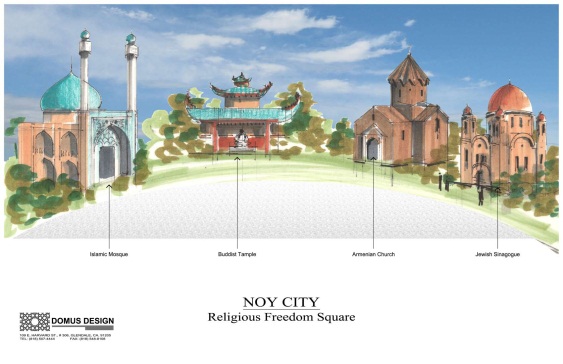 The area adjacent to Dalma gardens
Project Description. The goal of the project is to establish in Yerevan a historical archaeological and tourism center which will comply with modern standards. It is envisaged to construct a theme part in the area adjacent to Dalma gardens which will reproduce the concept of Noah's Ark. According to the Bible, after the Flood and apocalypse of the ''old world'' Noah's Ark found its shelter on Mount Ararat.
Taking into account that Mount Ararat is viewed from Yerevan in all its charm and greatness, and since for the overwhelming majority of tourists who travel to Armenia the city of Yerevan is the first and main tourist destination, as an outcome of the project implementation, Armenia as a ''Noah's Land'' will become a unique regional tourism center.
The project is characterized by low-density construction. The following sections will be constructed:
1. Construction of Noah's Ark. It will be presented as an open-stage amphitheater or a hotel which includes public structures (theater, conference room, etc.).
2. A circular square with a Christian church built around it (Armenian Apostolic church), a synagogue, mosque and Buddhist temple.
3. Creation of a rural environment (duplication of a rural life after Noah's Ark reached the land).
4. Shops, malls, restaurants and the like in the rural area.
5. Old style wine factory where most ancient equipment will be used for wine production.
6. Construction of condos (2/3-storey) in a limited number in the first or second line of the rural section.
7. Planting of orchards and vineyards.
Technical Data. "Noahland" center will occupy an area of 7 hectares.
Project Deadlines. Construction duration: around 3 years.
Project Costs. Construction costs: around 20 bln AMD.
Investment Type and Fundamental Terms. The project is envisaged to be carried out by involving private investments. In case of private investments Yerevan Municipality will assist the investor in providing information to the latter regarding legal status of the land as well as in acquisition of documentation required for the project implementation. Yerevan Municipality will also consider possibilities and terms of verification of privileged status of fees for land use.
Yerevan Municipality will also assist in designing an implementation program and process structuring.
Present State. The concept design and sketches are available.