Investment project to construct a new block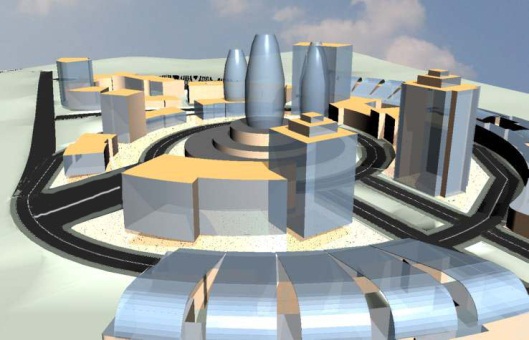 Ajapnyak and Malatia-Sebastia administrative districts
Project Description. The project aims to construct the north-western part of the city, by establishing a new block adjacent to Tichina street.
As a result of the project it is expected to have a multi-functional complex of citywide significance complying to modern standards, which will include public facilities, business and shopping centers, hotels, sports complexes, residential blocks, green zones. In the area consturction of technopark is considered.
The project suggests:
1.construction of groups of residential buildings
Construction of groups of residential buildings is planned in the area. By the construction of 3-9-storey 44 residential buildings (in minimum 89300 square meters) in average 11 groups of yards will be established with yards and parks for children. The first floor of the buildings is planned to be used as an area for offices, primary services points.
2.Construction of a multifunctional business-commercial and entertainment complexes
It is planned to set up business, commercial and entertainment multi-functional complexes, considering that the area is the planning zone center which connects Davtashen, Ajapnyak and Malatia-Sebastia administrative districts.
According to zoning plan it is expected to build 3-5 storey 5 commercial centers (10 buildings) on 3.5 hectares, around 50.000 square meters. It is planned to build department stores, restaurants and cafes, utility service and trade centers and others.
It is envisaged to construct 3-25 storey buildings with the total area of 40.000 square meters in order to develop multifunctional centers of citywide significance for public functionalities. By the design it is planned to build museums, galleries, libraries, art centers, հealthcare facilities, offices, financial and insurance institutions, hotels, entertainment zones, retail shops and catering points.
3.9 hectares of area is planned for organizing a fair, for open-air wholesale and retail points, with markets for agricultural and crafts products.
3.Mixed construction
Within the frame of mixed construction a construction of 3 blocks with 8 buildings of 3-15 storey is planned on 7.1 hectares of land,which will include residential and public areas.The total area will cover 42000 square meters.
On the first floor and on the areas adjacent to residential buildings it is planned to construct business centers, service centers, cafes and/or restaurants.
Design and construction of new infrastructures are planned (electricity, gas, water supply).
According to Yerevan master plan, construction of highway is envisaged adjacent to southern part of the block, which will be a direct link between Yerevan and regions of Armavir. Besides, it is also planned to construct a highway of citywide significance which will pass through the block and will become an integral part of the trasportion- connecting Artashat and Ashtarak highways.
Technical Data. The total area covers 194 ha. Based on the design the following main zones are:
- Construction of residential zone – 22 ha
- Educational institutional facilities zone – 7.5 ha
- Green zone of citywide significance – 40 ha
- Sanitary protective zone with eco zones – 32.2 ha
- Public green zone of local significance – 13 ha
- Trade and fair zone – 7.4 ha
- Public activity development multifunctional zone of citywide significance- 4ha
- Sports complex – 6.6 ha
- Mixed construction zone – 7.1 ha
- Institutions of domestic significance – 4.6 ha
- Streets, roads, squares and parking -49.2 ha

The project implementation duration is around 5 years. It is possible to split the implementation of the project into phases.
Project Cost.The cost of the construction depends on design solutions.
Investment Type and Fundamental Terms. The project is envisaged to be carried out by involving private investments.Yerevan Municipality will assist the investor in providing information to the latter regarding legal status of the land as well as on obtaining necessary documentation for project implementation. Yerevan Municipality will also assist in designing acquisition programs and structuring the process.
Present Data. Design-sketch documentation prepared by "YerevanProject" CJSC is available.