Open area leisure and tourism center establishment project in botanical garden of Yerevan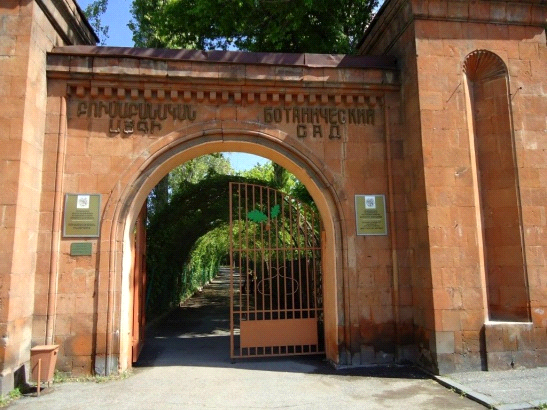 Administrative district Avan
Project Description. Yerevan botanic garden is a unique scientific eco educational national value, which has more than 80 years of history. The botanic garden implements studies related to the preservation of valuable genetic funds of international and national plant species which are registered in Red Book (endangered and rare) under the international Convention on Biological Diversity. At present, created according to ecological and geographical classical principles, collections of 5000 valuable plant spicies are represented in expositional lands of Caucasus, America, East Asia, Euro Siberia. The unique flora of Armenia (ex situ collection of 1.5 ha, 1935) represents important scientific value, where about 1/2 (over 1800 species) of state's extremely rich flora (about 3500 species) is centralize. The Botanic garden with its scientific activities, with the structure of vegetative collections and by its nature is internationally recognized and is one of the leading academic institutions in the region. The Botanical garden collaborates with almost 400 academic institutions around the world. The Botanical Garden of the RA National Academy of Sciences is the structural experimental subdivision of the Institute of Botany of the RA National Academy of Sciences and accordingly, a laboratory and training base for the universities specializing in biology and ecology.
The aim of the project is to establish a theme park in the botanic garden, leisure, entertainment and tourism center, for all age groups and tourists. The park will consist of 5 main zones:
• protected species of trees and plants, expositional areas with vegetation from different regions
• echo-educational center
• recreational and active leisure zones
• ethnographic center
• tourism center
The project will include:
- sports component for recreation and entertainment, creation of racetrack and cycle track (around 3 km), establishment of platforms for trainings, including yoga classes. It is planned to establish a chess platform. The possibility of creating riding area will be discussed.

- Eco-educational component for organization of individual or group excursions in weekends for all age groups, referring to existing vegetation, establishment of events platform in order to organize various outdoor trainings about nature, environment, healthy life style, as well as establishment of ethnographic museum, creation of outdoor eco-educational and art exhibition zones and establishment of interactive library. Project envisages creation of art exhibition zones and interactive library. It is also planned to create an environmental study group, whose members will participate in the maintenance activities of the park and will be involved in environmental activities.

- Ethnographic Center will have an appropriate environment with an amphitheater, where ritual performances will be staged, folk songs and dances will be performed, performances on Armenian history, traditions and lifestyle will be presented.
- Establishment of appropriate infrastructures for families and tourists, such as establishment of food, souvenir, plants and flower trade point, children's playgrounds, outdoor cinema in order to present regularly films as well as environmental films and establishment of family lounges, loges, benches, etc.


- Establishment of winter garden and flora labyrinth.
-Creation of trilingual map specifying respective valuable trees and plants, events platforms, racetracks and cycle tracks. It is planned to create an interactive website which will also have a chance of virtual tour.
-Equipment of the whole territory with QR code displays, creation of smartphone applications with information about the garden and vegetation. The park will have free Wi-Fi.
- The garden will have two entrances with booking houses
-It will be possible to make tours around the garden by electro mobiles
- Modernization of irrigation system and street lightening system
- Construction of fencing and parking
1. Parking
2. Dendro collections (expositions)
3. Corpus of Institute of Botany
4. Greenhouses
5. Biodiversity conservation and eco-educational centers
6. Armenian flora expositional land plot
7. Information desks for the visitors and museum
8. Nursery of decorative trees and plants
9. Flower cultivation area
10. Collectible orchard
11. Bicycle rental point
12. Cycle track
13. Outdoor events zones
14 Riding area

Technical Data. The whole surface of the garden is 80 ha. The scientific collections and other necessary infrastructures cover the ¾ (around 60-61ha) of the garden area. On the rest area, which is 18-20 ha, it is planned to organize leisure and recreational places for the visitors.
Project Deadlines. Project duration is 3 years.
Project Cost. The whole amount of the project is around USD 2.5 million. It is possible to split the implementation of the project into phases.
Investment Type and Fundamental Terms. Community-private investment
Present Data. Availability of construction concept.