"Nor Arabkir" HC" Subsidiary CJSC
View on map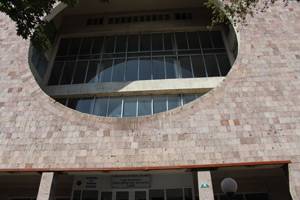 Serving area includes administrative district Arabkir, it serves 68.286 people (18 years old and older).
The medical institution provides the following services:
medical – general medical practice, gynecological, ophthalmological, cardiological, general surgical, ENT, neuropathological, endocrinological, cutaneous, venerological, infectious, gastrointestinal, oncological, rheumatologic, urological, pulmonologic, phtisiatric (antituberculous cabinet), physiotherapeutic, therapeutic stomatology, surgical stomatology, functional diagnostic (ultrasound, ECG), physiotherapeutic, laboratory-diagnostic (clinical, biochemical, serological), X-ray diagnostic (rentgenologic, fluorografy), med. massage (manual therapeutic).
The polyclinic is saturated with all the necessary specialists for providing the activity of stuctural subdivisions set by the founder of company.
Director: Karen Khachatryan
Address: Hr. Qochar21
Tel.: 26-24-16