Nork, Holy Mother of God Church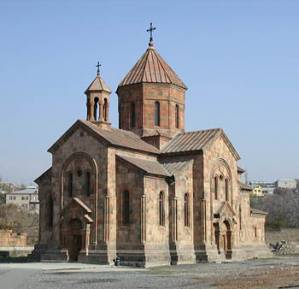 The St. Astvatsatsin Church (it was called '"St. Marinos" before) is situated on the height of Nork district. Along with the other monuments of Nork the church was destroyed by the disastrous earthquake of 1679. At the beginning of the XX century the church was restored with the donations of Ter-Avetikian brothers, the well-known businessmen. In the 1930s, the church became similar to many others, the victim of the religion-persecuting policy.
Though the church was ruined, numerous pilgrims from Nork and form the other localities of Armenia visited it on the holidays dedicated to the Blessed Virgin.
After the proclamation of the new independence in Armenia in 1991, the residents of Nork started the reconstruction of the church with the financial support of the Compatriotic Union of Nork-Marash. In 1995 the St. Astvatsatsin Church opened its doors to the believers.