"Polyclinic Noragavit" CJSC
View on map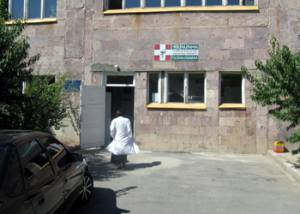 "Polyclinic Noragavit" was founded in 1991. It has also a branch in gardening company of Nor Kharberd. The following cabinets function in the policlinic: therapeutic, children's, women's consultation, surgical, dental, neuropathological.
Also dermatovenereologic, ENT, ophthalmologic, endocrinological, physiotherapy, infectious, disinfection, research laboratory, treatment, cardiological, EKG, sonography, pulmonology, antituberculous cabinets serve the population.
Therapeutics and children's departments serve the population in the branch of Nor Kharbert.
Chief executive: Karen Sargsyan
Address: Noragavit, str. 8, building 10
Tel.: (010) 48-02-25
E-mail: nor.pol@mail.ru