"Science Research Institute of Cardiology" CJSC
View on map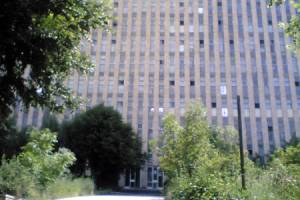 SRI of cardiology was founded in 1961 in the system of the scientific academy of Armenia. From the day of the establishment the specialists have done the most important examinations of cardiology – therapeutic, surgical, theoretical, which obtained All-Union and international recognition.
At present the institute concentrates its applied and scientific power on the solution of such important problems as ischemic heart-disease, cardiac infarction, heart failure, hypertension, the diagnosis, treat, prevention of other diseases of cardiovascular system. The fact, that the institute has the functions and rights of the Republican cardiological dispensary and is an active organizer and the leading link for the establishment of cardiological service in Armenia, contributes to the complete solution of these problems.
Besides extensive scientific-practical activity, the institute deals with the training and qualifying of specialists. The SRI of cardiology gave the country about 30 doctors of sciences, 200 candidates of sciences. The work of the institute was generalized in 70 monographs, in 300 methodic directions, almost in 40 investigations, in 110 proposals regarding efficiency increase, in thousands of articles, in many reports at international congresses. The staff perform a big activity in the association of cardiologists of Armenia, Universal Heart Federation and in the European Society of Cardiolopgists.

Scientific and applied achievements of the institute were always highly appreciated. It's an approval, recognition of the most famous international scientific conference, at the same time it's the highest scientific degrees, state awards, honours, diplomas of Science and Technics State Committee, main committee of ЕАNЕ (Exhibition of Achievements of the National Economy), trade union of medical workers of the USSR, registration in Honour Book and many other rewards.
The structure of the SRI of Cardiology includes the following departments and diagnostic laboratories:
Department of acute myocardial infarction
heart failure department
hypertension department
chronic ischemic heart-disease department
arrhythmia department
preventive cardiology department
reumatology and arthrology department
radio-isotopic laboratory
X-ray laboratory
hematological laboratory
biochemical laboratory
immunological laboratory
pathomorphologcal laboratory.

Director: Alexander Sarkisov
Address: Yerevan, 5 P. Sevak str.
Tel.: (010) 28-85-50