St. John the Baptist Church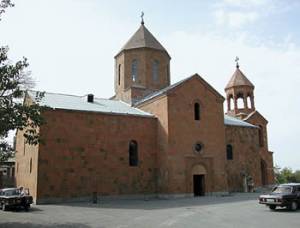 The St John the Baptist church was built in 1710 in the place of the medieval church destroyed after a massive earthquake on the high hill of Kond. It was erected with the support of the Yerevanian wealthy man Melik Aghamal. Like other late medieval churches of Paul and Peter (Poghos-Petros), Zoravor and Katoghike this church is a three-nave basilica. The area has a rectangular perimeter and the hall chamber for praying and the eastern altar are located here.
In 1973, architect R.Israelyan presented the draft of the church reconstruction to the All Armenian Catholocis Vazgen I and the project was approved. Unfortunately, in the same year the author died. 10 years later the author's son, architect A. Israelyan realized his father's idea. The working project was worked out by eminent architect Baghdasar Arzumanyan and engineer-constructor Avetik Teknejyan. In the 1980s, the engineer-constructor Mikael Hovhannisyan led the reconstruction of the church. The external walls of the dome were faced with tufa stone. Significant work was done inside the church, the main altar was decorated with beautiful sculptures. A platform was constructed for the choir, the ground was covered with marble. In 2000 the educational and cultural centre "Hovhannes Kozern" was founded adjunct to the church.