Yerevan State Institute of Theatre and Cinematography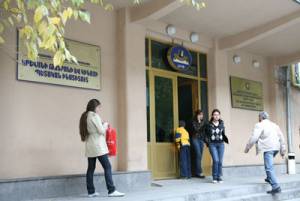 Theatre Institute was founded in Yerevan with two faculties: faculty of actors and faculty of filmmakers. The distinguished art figure, the Arm,SSR People's Artist Vavik Vardanyan was assigned director. Chairs of actor's art and filmmaking, of Marksism-Leninsm, of history of theatre and art, of military readiness, and a year later-chairs of stage movement and language and literature were created.
Since 1950s the admission to theatric critics department was stopped, the number of students decreased. The same situation was with Institute of Fine Arts. In 1952, as a result of merging of the two institutes Yerevan Institute of Fine Arts and Theatre was formed. Vavik Vardanyan was assigned Rector. The departments of filmmaking, actors mastership and theatre critics (1944-1862), art (fine arts, sculpture, theatric painting (1949-1958) and graphics (1949-1959) were opened.
In 1976 the two faculties of the institute had the following departments: the theatric faculty had department of actors' art, of filmmaking and musical comedy (since 1971); the fine arts had departments of painting, sculpture, applied arts (since 1960-ceramics, carpet design, textile), industrial art (since 1963).
In 1994 Yerevan State Institute of Fine Arts and Theatre was divided into Yerevan State Institute of Fine Arts and Yerevan State Institute of Theatre Art.
In 1999 Yerevan State Institute of Theatric Art was turned into Yerevan Institute of Theatre and Cinema.
For more information visit www.ysitc.am

Address- 26, Amiryan.
Tel. (+37410) 53 63 82