Yerevan State Medical University after Mkhitar Heratsi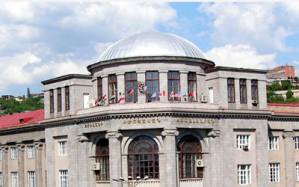 On May 6 16, 1919, the Council of Minister of the Republic of Armenia made a decision to found a university in Yerevan which will have 4 faculties: Faculty of History and Linguistics, Faculty of Economics and Law, Faculty of Medicine and Faculty of Physics and Mathematics with technical subdivisions.
In 1930, by the decision of the Government of the Arm. SSR, on the basis of the faculties of Yerevan State University were established separate instituted among which was State Medical Institute the first Rector of which was Hakob Hovhannisyan who in 1922-1930 was Rector of Yerevan State University and had a significant experience in university management.
In 1957 the representatives of the Armenian Diaspora were provided with the possibility of getting higher medical education in homeland and the department for foreign students was opened. Armenians from Syria, Lebanon, Jordan, Ethiopia, Iran, Sudan, Cyprus, Bulgaria, Hungary, France, Great Britain came to get profession of a physician in Yerevan.
By the decision of the Council of Minister of Armenia made on May 25, 1989 Yerevan State Medical Institute was named after the great medieval physician and thinker Mkhitar Heratsi.

In 1992, on the initiative of the students of the institute, Students' Parliament was formed which played an important role in the organization of intra-university work.
Since 1997 the university has initiated the process of tutors' quality increase courses, as after the collapse of the UUS the employees of ESMU couldn't get qualification courses in the central cities of the USSR.
The Medical institute got outstanding achievements in establishment and development of international ties. Agreements were made with medical establishments of France, Germany, Greece, Iran and other countries. From year to year the number of exchange programs for teachers, students and interns is increasing.
Taking the noticeable contribution of Yerevan Medical Institute to preparation of medical human resources and development of medicine, in 1995, according to the RA Government decision the institute got the status of the university.
In 2005-2006, in accordance with the international educational standards, YSMU started two-level system of education.
Currently, the university has more than 31 thousand alumni. The educational-practical and scientific-research activity is carried out in 100 chairs, leading clinical bases and scientific-research centres of Yerevan.
Of more than 1100 teachers of the university 171 are doctors of sciences, 504 PhDs. 7 academicians of the RA NAS teach at the university. This powerful scientific potential plays a serious role in the development of medicine and relevant sciences in Armenia.
For more information visit the official website of the university www.ysmu.am
Address: Yerevan, 2,Koryun street
Tel. +37410) 58 25 32
E-mail- info@ysmu.am