"Polyclinic № 8" CJSC
View on map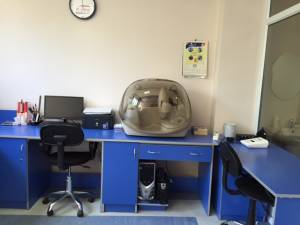 "Polyclinic №8" CJSC was founded in 1967, it serves the population of Kentron and Arabkir administrative districts - 8710 children (0-18 years old) and 42.179 adults (above 18 years old). Ambulatory-polyclinic aid is provided. Local areal principle is embedded in the company, local therapeutists, local pediatrists and particular specialists provide medical aid, adjoining laboratory-instrumental diagnostic investigations are also done here.
The building of the company is 5-stored, the one of which is for the children's department. It has local heating system. Primary health care is provided with necessary medical equipments. Structural subdepartments with the corresponding personnel established by the founder function in the polyclinic – with therapeutic, pediatric, ENT, cardiological, ofthalmological, neurological, infectious, surgical, oncological, endocrinological, dermatovenerological, allergologic, urological, functional diagnostic, physiotherapeutic, X-ray, obstetrician-gynecologic departments, clinical, biochemical, cytological laboratories.
In 2010 the reformation process began, due to it the administrative store, clinical, biochemical laboratories, physiotherapy service, dermatovenerological cabinet were repaired, the pharmacy was improved, isolation-ward was formed. The repairment will be continued in 2011, the medical equipments will be modernized.
Services according to specialization
Departments: therapeutic, children's, obstetrician-gynecological, specialized – ENT, cardiological, ophthalmologic, neurological, infectious, surgical, oncological, endocrinological, dermatological, stomatological, allergologic, urological.
Laboratory-instrumental investigations: General clinical laboratory, biochemical laboratory, isoserological laboratory, physiotherapy department, ECG, X-ray, fluorography, ultrasound diagnostics, disinfection chamber.
Director: A. Harutyunyan
Address: Marshal Baghramyan 51 a
Tel.: (010) 27-27-60
E-mail: pol.8@mail.ru