Mayor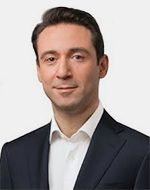 Was born on December 18, 1976 in Yerevan.
1983-1990 - studied at the secondary school N83 in Yerevan.
1993-graduated from Anania Shirakatsi Lyceum.
1997-graduated from Yerevan State Polytechnic University.
1997-1998 - served in the RA Armed Forces.
1998-2002 - worked at "Sharm" holding as a screenwriter, filmmaker and actor.
Was a member of the KVN (Club of the Funny and Inventive People) "Armenian project" team.
2004 - became the co-founder of "Kargin Studia" company, worked as a producer, filmmaker, actor and screenwriter.
Since June 2018 has been member of "Civil contract" party.
According to the results of the elections for Yerevan Council of Elders held on September 23 has been elected Mayor of Yerevan.
Married, has four children.