Memorial complex Tsitsernakaberd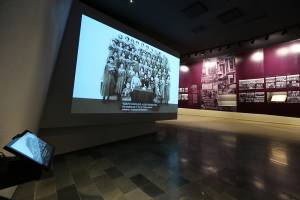 The Memorial Complex of Tsitsernakaberd erected in Yerevan in 1967 commemorates the 1.5 million of Armenians died during the First Genocide of the 20th century committed by the Turkish government. The Memorial became the place of pilgrimage and an indivisible part of the architecture of Yerevan. The complex occupies the area of 4500 sq meters and consists of three main elements: the Memorial Wall, the Sanctuary of Eternity (Memorial Hall and Eternal Flame) and the Memorial Column "Reborn Armenia".
In 1995, in the event of the 80th anniversary of the Armenian Genocide the Museum-Institute of the Armenian Genocide was built near the Memorial Complex (architectures S. Kalashyan, L. Mkrtchyan, A. Tarkhanyan, sculptor F. Arakelyan). Today the Museum-Institute is a science and research centre adjunct to the RA National Academy of Sciences.

History of the Memorial Complex of the Armenian Genocide

During the Soviet period everything related to the national ideology was absolutely inacceptable and it was banned to commemorate the victims of the Genocide.
The solemn ceremony of opening of the Memorial took place on November 29, 1967, during the 47th anniversary of the Soviet Armenia and became a significant social and political event in the life of the republic. The authorities of the republic A. Kochinyan, N. Harutyunyan, G. Ter-Ghazaryan, R.Khachatryan, L. Gharibjanyan together with thousands of locals gathered on the top of Tsitsernakaberd hill to commemorate the victims of the Armenian Genocide. The solemn procession towards the memorial lasted till late at night.
Since 1967, every year on April 24 thousands of people visit the Memorial Complex.

About the Museum-Institute of Armenian Genocide

The Armenian Genocide Museum-Institute was opened in 1995. The building of the museum was designed in accordance with the project of architects S. Kalashyan, A.Tarkhanyan, sculptor F. Arakelyan.
The museum provides excursions in Armenian, Russian, English, French.
Throughout its more than twenty-year history the museum hosted a great number of visitors, including schoolchildren and local and foreign students. Visiting the museum is a part of protocol events of the delegations arriving in Armenia with official visits, and therefore, many eminent foreign guests have already visited the museum.
The first floor of the museum is partly underground and the administrative, engineering and technical services, as well as the Conference Hall after Komitas provided for 170 persons are located there. Here are the storage areas for scientific and museum samples, a library, a reading hall. The museum exposition occupies the second floor and has the area of 1000 sq m. It consists of three closed and one open exposition halls.