Tourism magazines of Yerevan
At the initiative of the tourism division of the Municipality of Yerevan, in 2015, touristic maps were published in two languages-Russian and English. These maps included touristic sights of the centre of the capital: historical and cultural monuments, museums, including the Memorial of the Armenian Genocide, galleries, churches, parks, the Yerevan Zoo, resorts etc.
Metro stations, bicycle stops are also marked on the map to help in getting oriented in the centre of the capital. Useful information, 12 must-visit sights and other recommendations for tourists are presented in a separate column. In 2018, within the frames of "Yerevan 2800" events, the tourism division initiated and implemented publication of touristic maps in many languages – Armenian, Russian, English, French, German and Farsi.
Taking into account increasing flows of tourists to the capital, the maps have become more diverse in languages and content. In 2019 the division issued updated maps in a new design and updated information in many languages (Armenian, English, French, German, Farsi).
A new thematic map was issued with the use of digital technologies. It includes brief information about touristic attractions of Yerevan, 12 "must-visit" museums, art galleries, theatres, cinemas, libraries, churches, parks, monuments, trade centres, educational and sport establishments, public WCs are presented with necessary locations,
The touristic and historical-cultural attractions are presented as a whole multi-functional guidebook.
The map is of a nice design and contains easily orienting navigation: places of interest are presented to tourists in a special way: with trees, walking people, musicians playing their instruments, artists and taxis, which makes it possible to imagine the area much better.
At the reverse side of the map tourists can familiarize themselves with the most attractive touristic destinations of Armenia and Artsakh. The most popular dishes, drinks and "must-visit" sights are presented as well. The maps are available free of charge in Yerevan centres for tourism support and citizens' service.
Official guidebooks of Yerevan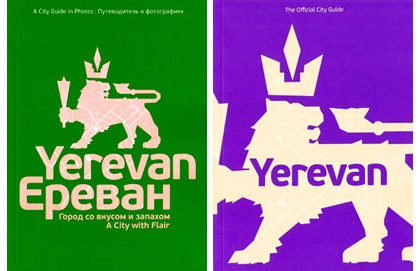 Youth entertainment guidebook
The guidebook entitled "A City With Flair" contains special photos of the youth centres, entertainment places, restaurants, cafes, bars, night clubs and attractions of Yerevan. Besides splendid photos the guidebook includes comments making the city more exciting for youth.
City guidebook
The guidebook contains information about the historical and cultural sights, museums, theaters, concert halls. Hotels, streets of the city, as well as about visa requirement, national peculiarities, restaurants, cafes, shops and other places of interest.
The guidebooks can be purchased at the bookshops and hotels.
"YEREVAN IN YOUR POCKET" guidebook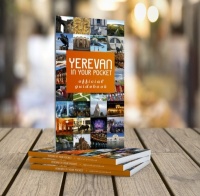 "Yerevan in your pocket" is a guidebook in English printed in 2019. It makes it possible to explore Yerevan in its whole beauty as it contains brief information about historical, cultural monuments, churches, bridges, pantheons, museums, cultural centres, theatres, trade centres, sport complexes, squares and parks, schools, universities, international organizations, embassies and consulates as well as about national peculiarities, restaurants, cafes and other places of interest. The guide contains maps, addresses of necessary touristic sites, telephone numbers, websites, e-mails, working hours, as some sections are presented in QR codes.