Yerevan city tour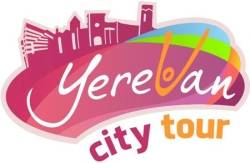 The main goal of the program is to familiarize tourists, guests of the capital and townspeople with the historical and cultural monuments and sights of the city of Yerevan.The touristic program of Yerevan started on September 17,2011, within the frames of the celebrations dedicated to the 20th anniversary of Armenia's Independence.
Within the frames of the 2800th anniversary of Yerevan, in 2018, Yerevan City Tour performed under the slogan "Let's Celebrate Together". In 2019 the project got a new slogan "Discover Yerevan".
During the two-hour tour of "Yerevan City Tour" program the multi-lingual system gives the opportunity to get interesting information on the history of Yerevan, its culture, architecture and other cultural values.
In 2017 the touristic route "Yerevan City Tour" was recognized "Best Touristic Project of the Year".
Touristic route of Yerevan works upon reservation.
The start and end of the route is square of France.
-The route is provided with multi-lingual audio excursion system (Armenian, Russian, English, French, German, Farsi).
-The buses are available for people with disabilities.
-There is free Wi-Fi on the buses.
- The passengers get free headphones and leaflets.
-Tickets can be purchased in touristic buses.

The ticket price is:

* children under 7-free of charge
* children aged 7-15 –AMD 1500
* students (student card is to be shown)-AMD 2000
* adults-AMD 3000 (RA citizens)
* tourists - AMD 5000
* disabled –free of charge (free card for public transport is to be shown)


For more information about the official touristic route of Yerevan contact tourism division of Yerevan Municipality.

Address: Yerevan, 1,Argishti street
Tel: (011 ) 514-230
E-mail: tourism@yerevan.am