Foreign relations
Functions of the department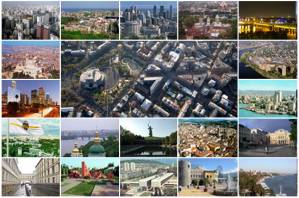 The Municipality of Yerevan cooperates with more than 50 foreign cities and is a member of 8 international organizations creating a wide contractual field and implementing joint programs. The recent initiatives are aimed at making the cooperation with sister and partner cities of Yerevan more productive and at further expansion if international ties.
A number of new partners' relationships were established with European, Asian and CIS cities and organizations: International Assembly of CIS capitals and large cities, International Association of the Mayors of French-speaking cities /AIMF/, Lighting Urban Community International /LUCI/, Association of European Cities /EUROCITIES/, GOSPEL subprogram of CIUDAD program implemented of European Commission, the Congress of local and regional governance of the European Union, "Strasbourg club of friend cities", World Heritage Cities and other organizations. Yerevan has also joined various international initiatives and declarations. Preparations are being carried out to sign cooperation treaties with a number of cities, to establish relationship and expand it, to have mutual visits. The cooperation is carried out in the following spheres: trade and economy, science and technology, humanitarian; special attention is paid to experience exchange, investment encouragement, joint urban development, social, cultural, sport programs and events and so on.
A lot of work is carried out with the foreign diplomatic representations accredited in Armenia and with international organizations to solve the problems existing in different spheres jointly with the RA state government and other bodies. The interest to the capital has increased in the Diaspora and this fact benefits finding new partners and establishing effective cooperation especially in the context of investment field expansion and attraction of new financial means.
The main directions of the activity of the Municipality of Yerevan in the sphere of international cooperation are:
• to ensure the continuation of the cooperation established with sister and partner cities of Yerevan and to create new ties, to develop active cooperation with international and regional establishments,
• targeted use of the environment appropriate for the implementation of international and regional projects,
• to study the existing experience, the programs being implemented, to expand cooperation in the priority directions,
• to attract foreign investments to Yerevan, to implement joint programs with foreign countries.
The information on the cooperation with sister and partner cities of Yerevan is available at "Sister and Partner cities" chapter of the website.