Organization Mayors for peace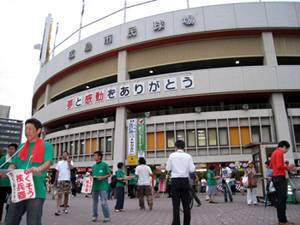 At the suggestion of the mayor of Hiroshima mister Tadatoshi Akiba Yerevan has become a member of "Mayors for peace" organization since November 1st 2010. The organization is chaired by the cities of Hiroshima and Nagasaki. The organization is composed of more than 4 thousand cities from over 144 countries and regions and their main aim is to abolish nuclear weapons. As it is known, in 1945 Hiroshima and Nagasaki underwent atomic bombing and as a result hundreds of thousands people died. To prevent any repetition of this horrible tragedy the cities-members of the organization warn all the world against the inhuman consequences of A-bombing and urged to abolish nuclear weapons.
"Mayors for peace" was founded in 1982 by the efforts of the mayors of Hiroshima and Nagasaki. They seek to abolish nuclear weapons till 2020 and now they consider the opportunity to hold Olympic games of 2020 in Hiroshima. They wish to hold a festival of peace and celebrate the planet's liberation from nuclear weapons.
The motto is "We need to abolish atomic weapon before it destroys us".