"Sourb Astvatsamayr" MC
View on map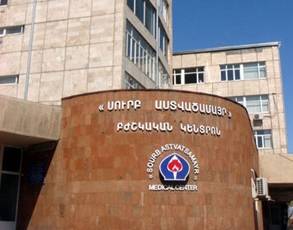 "Sourb Astvatsamayr" MC is one of the largest medical unions of Yerevan and performs high medical aid to the population of not only the capital but also the whole country. The medical centre was founded in 2004 by the program of reformation of Health system in Armenia. The aim of the mentioned program is to make the madical service available to the population.
"Sourb Astvatsamayr" MC includes the maternity hospital, 3 polyclinics, children's and adult's hospital.
For considerable investments in medical sphere "Surb Astvatsamayr" MC was awarded with "Merkuri" prize of Chamber of Commerce and Industry of Armenia in November 2008.
The problem of the centre is to satisfy the population's health needs, to be the leader in serving high qualified medical aid using the latest achievements of Health sphere, supporting the preparation of young professionals. Besides, it's aimed to raise the authority of med. workers among society by serving effective medical aid professionally and responsibly.
The spheres of the activity of MC are: women's consultation, obstetrics-gynecology, new-borns' pathology, general pediatrics, children's gastroenterology, children's neuropathology, adults' neuropathology, reanimation and intensive therapy, children's neurosurgery, children's and adults' traumatology and orthopedy, children's surgery, new-borns' surgery, children's thoracal surgery, children's maxillofacial surgery, endoscopic surgery, ENT diseases, general surgery, anesthesiology, diagnostic service (general clinical, bacteriological, biochemical, immune-chemical laboratories, ultrasound, X-ray, including CAT (Computer-Aided Tomography) endoscopical (esophagogastroduodenoscopy, colonoscopy, hysteroscopy ) diagnostics).
Director: Nikolay Dallaqyan
Chief children's surgeon of Yerevan,
docent of the chair of pediatry and children's surgery №1 of YSMU, c.m.s
Address: 46/1 Artashisyan str. Yerevan
E-mail: sa.mc@mail.ru
Website: www.sourbastvatsamayr.com
Tel: (010) 46-18-41