"Surb Astvatsamayr" MC (CJSC)
View on map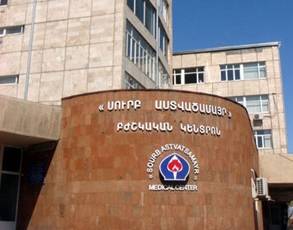 Surb Astvatsamayr" MC is one of the largest medical centers of Yerevan providing the population of the capital and provinces of the republic with high-quality medical services.
In 2005-2008, with the financial support of the World Bank within the frames of health care optimization the program of reconstruction and additional equipment of the hospital, the maternity home and policlinics of "Surb Astvatsamayr" MC, management improvement and medical service quality increase was implemented.
After the destructive earthquake of Spitak in 1997 it became clear that the country needs a medical establishment which can involve all spectrum of urgent pediatric aid, and due to its high potential the Children's hospital was selected for this purpose. Eventually it became the nucleus with powerful technical equipment and human resources round which the rest of sub-units of the medical center were united.
The aim of the MC is to provide the population with effective medical services applying the latest achievements in the sphere of health care. Besides, a task was set to increase the authority of medical workers in society delivering efficient medical aid.
Today the multi-functional medical center has specialized departments of both therapeutic profile (department of newborns' pathology, general pediatrics, gastroenterological, neurology departments) and surgical profile (neurosurgery, traumatology and orthopaedics, general,thoracal, maxillofacial surgery, neonatal, endoscopic surgery, ENT, anesthesiology, and reanimation); it has significant diagnostic potential (general clinical, bacteriological, biochemical, immune-chemical laboratories, ultrasound (duplex,triplex), X-ray, including CAT (Computer-Aided Tomography). The departments have been completely reconstructed and renovated.
In Children's in-patient clinic function the only in Armenia departments of children's thoracal surgery, neurosurgery where patients from all parts of the republic are served. The clinic's pride is the surgical correction of malfunction of thoracic organs and abdomen organs at newborns'. These unique surgeries in Armenia made it possible to save many babies' lives. The MC is the only hospital in the republic which has successful experience of plastic surgery of children's esophagus.
"Surb Astvatsamayr" is also a clinic basis for the Chair of pediatrics and children's surgery, neurology of Yerevan State Medical University and the chairs of neurology and neurosurgery, ENT diseases of the National Institute of Health.
The MC actively cooperates with all medical establishments of the capital and regions of the republic. The hospital is open for cooperation with various foreign specialists. For many years the MC has been developing successful cooperation with the University Clinic of Munster (Germany), with the SRI of Neurosurgery after Polenov (St Petersburg), with the Clinic of Public Assistance of Marseille.


****

"Artashisyan" policlinic of "Surb Astvatsamayr" MC provides all spectrum of ambulatory services.
Address- Yerevan, 46/1, Artashisyan str.
Phone-(010) 42-01-52
****

The maternity hospital "Surb Astvatsatsin" functioning since 2017 within the MC "Surb Astvatsamayr" has the following departments:
• department of obstetrics
• department of gynecology
• department of anesthesiology and intensive therapy
• women's consultation
Address; Yerevan, South-West quarter B-4, 21,Babajanyan str.
Phone: (010) 72-78-01
Director: Nikolay Dallaqyan
Chief children's surgeon of the RA MH
docent of the chair of children's surgery of YSMU, c.m.s
Address: 46/1 Artashisyan str. Yerevan
E-mail: sa.mc@mail.ru
Website: www.sourbastvatsamayr.com
Tel:(010) 46-18-41