"Polyclinic №13" CJSC
View on map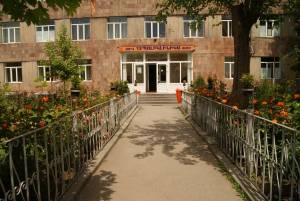 It was founded in 1970, reorganized in 2002 including children's polyclinic №7. The polyclinic serves the population of the northwestern district of Nerkin Shengavit accomplishing the primary health saving service of the population aged under 18 and older of the served area and providing paid medical service for the citizens who are out of the served area.
The ambulatory-polyclinic medical aid serving the inhabitants includes the following directions: primary health care – therapeutic, pediatric, obstetrician-gynecological, particularly specialized medical aid – with cardiologic, surgical, urological, neuropathological, ophthalmologic, ENT, stomatological, gastroenterological cabinets, dispensary medical aid – with endocrinological, dermatovenereologic, oncological, antituberculous and infectious cabinets.
Clinical and paraclinical examinations are done: X-ray diagnostic, fluorographic, echoscopic, endoscopic, functional diagnostic cabinets, with clinical and biochemical laboratories, resuscitative treatment with physiotherapeutic and massage cabinets. Qualified, necessarily specialized and retrained doctor-specialists and paramedical staff work in the polyclinic.
Director: Ruzanna Durgaryan
Address: Yerevan, Nerkin Shengavit str. 9, b.32
Tel.: (010) 48-21-51