Leather manufacture in old Yerevan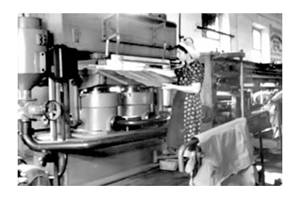 Having a rich historical and cultural past and being situated in the crossing of transit trade roads Armenia used to be known as a prosperous country of crafts. The guilds of craftspeople were centralized in Yerevan as well. One of the developed branches of the craft was leather manufacture.
In the time coarse leather manufacture was divided into several separated crafts: leather processing, shoe-making, parchment making. In old Armenia high-quality morocco of red and green colours made of goat's fur was well-known. The leather processing was rather hard work and lasted from one to several months. In Yerevan as in other places populated with Armenians leather processing was considered to be one of the most popular crafts though it had a housework character. Leather manufacturers made inner soles out of leather of oxen and bullocks and the leather of cows and calves was used for shoe covering. The durability of leather was considered the following way: one edge of the leather piece was fixed and a special box with weights was hung on the other edge. The number of the weights showed the durability of the leather.
Leather manufacture workshops used to be situated in Darakend (Dzoragyugh) quarter of the city, on the bank of the Hrazdan in the stalls the number of which reached 32. Besides local furs and leathers, lots of sorts of leather from Bayazet and Maku were processed here.
There were favourable conditions for leather manufacture development in the city: the Hrazdan river with its abundant, clean and cold water, favourable climatic conditions, existence of high-quality raw material and the possibility of import of the products.
In the period of Persian dominancy leather manufacture in Yerevan was taxed. Selling products without contractor's stamp was prohibited. To put a stamp the contractor took 2 silver coins for each sheep fur, and for each ox leather - 4 silver coins.
In the 1890th the leather workshops which were called tanneries, were absorbed by the same type of enterprises. Though they were large workshops their main work was done manually. At the beginning of the 20th century two such factories were mentioned in Yerevan: one belonged to the Gabrielyans, the other - to the Sargsyans. After establishment of the Soviet regime these two factories became state-owned. The one of the Gabrielyans was re-equipped and called Leather factory N 1, and the one of the Sargsyans - Leather factory N 2.
The Gabrielyan's factory with its production participated in exhibitions organized in Russia and abroad and was awarded many gold and silver medals.
Author - Ashkhen Harutyunyan
Researcher at the Yerevan History Museum