Musical life of old Yerevan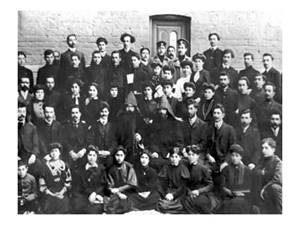 Being one of the most ancient nations and owning rich cultural and historical traditions, since very old times Armenians created songs and music in which the real life was reflected.
Ancient instruments discovered during the excavations in Yerevan were copper and bronze bells which were spread in the second millennium BC and were used during ceremonies and processions of troops.
The only representatives of music sphere in old Yerevan were the Zurna players (pipers) and Ashoughs (folk singers). In the first quarter of the XIX century the number of Zurna players was 12, 7 of which were Armenians. Vagrant musicians-composers snag the songs created by eminent poets or on their own to the music accompaniment of Saz. No festive event was held without them.
The teaching seminary, female seminary of Gayane and gymnasium of Hripsime had students' choirs. Orchestras used to play in parks, balls and concerts were organized as well.
The opera "Anoush" by A. Tigranyan became a significant event in the musical life of the city. It wasn't the first performance of the opera: it was first performed in 1912 in Alexandropol. However the significance of Yerevan performance of the opera (1913) can't be diminished as here "Anoush" was staged due to the efforts of the group of 50 locals who were led by the author of the opera A. Tigranyan. It took them only a few days to get ready for the performance.
The concert of the choir of Komitas comprising of 85 students of Gevorgyan seminary was another outstanding event in the musical life of Yerevan. After the successful concert in Tiflis, in 1906, the choir arrived in Yerevan. The concert was held in Janpoladyan theatre and became a great victory of Armenian folk music. Before the beginning of the concert Komitas made a brief and essential lecture on the richness and peculiarity of Armenian music. At the end of the end of the concert Komitas was again on stage but not with a lecture but to present his songs and music. The concerts of Komitas used to be finished with the song "Antuni" during which tears appeared on the eyes of spectators. After the only concert in Yerevan the choir returned to Etchmiadzin together with its leader.
A new rise in the music life of the capital was in the Soviet period. In 1921, on the initiative of Romanos Melikyan, a music studio was founded which in 1923 was rearranged into the conservatoire. Soon it became the cradle of musicians and performers which later made it possible to create the Symphonic orchestra, Armenian Philharmonic, Theatre of Opera and Ballet, the quartet after Komitas, the Variety Orchestra of Armenia and numerous musical educational establishments.
Ashkhen Harutyunyan
Yerevan History Museum