Health care in old Yerevan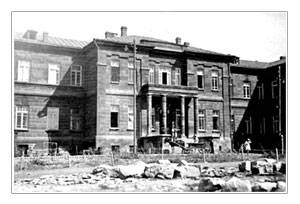 During the Persian governance the city had no medical establishment, no hospital or even a pharmacy, although in the 18th century Armenian medicine was well-developed due to European influence and national traditions. In the 18th century many Armenian physicians were eminent. The activity of two of them was connected with Yerevan: one of them is mentioned in literature as Harutyun, the other-Tatoul. But they didn't have appropriate medical establishments and therefore were able to provide even minimal medical care of the population. After Eastern Armenia's joining Russia, particularly during infectious breakouts in the period of 1829-30 the leadership of the Armed Forces of the Caucasus got to know that the military units located in the Armenian district and the employees of the department needed medical materials. General Paskevich wrote a letter to the Minister of Interior Affairs and convinced him to open military pharmacies in some towns. One of those pharmacies opened in late 1830 in Yerevan and served townspeople as well.
The first hospital in Yerevan was a military one and opened after Yerevan's joining to Russia. It was located in a fortress and occupied the previous premises of the harem of Hussein Khan. Every year the hospital served more than 1.5 thousand military men and worked till the 60th of the 19th century. There are no records concerning the hospital after the destruction of the fortress. Later some other medical establishments were opened but their scarce number and bad quality weren't able to provide even minimal medical aid for the population. In 1880, doctor Levon Tigranyan was engaged in medical activity. At his proposal, a constant medical commission was established in Yerevan which was to get engaged in the improvement of medical conditions. On L.Tigranyan's initiative, in 1881 the publication of "Health newspaper" was started. From the end of the 1890th the sanitary conditions of the city significantly improves. At the beginning of the 20th century there were several medical centres in Yerevan: the city, ophtalmological, psychiatric hospitals and a prison hospital. The largest and most popular was the city hospital. For a month-course of treatment the patient had to pay 15 roubles. The hospital had 15 beds, 7 of which in men's department, 5 beds in women's department. During this period two private hospitals are mentioned: of surgeon Hovhannisyan's and doctor Melikyan's. In the Soviet period the medicine in Yerevan developed more successfully.
Ashkhen Harutyunyan
Yerevan History Museum