Trades people of old Yerevan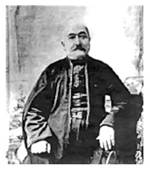 In Old Yerevan, together with eminent prince clans and distinguished clergymen, there was a separate class- the merchants. This class was divided into 6 groups: "Bazazes"-who sold jewelry brought from Europe, "Attars" who were engaged in local goods trade; "Alafi" who mere engaged in agricultural products trading, "Bakhkals" sold fruits and "Dukanchi" (or "Mikitans"). "Bazazes", who mainly sold textiles, were highly respected. They mainly exported goods from Moscow and Nizhni Novgorod, sometimes from Warsaw and Vienna. These merchants had shops in the city centre- in Shagar, Astafyan street, at Kantar, Berd street and in the two-storey building reaching Berd street. Actually, it was a row of constructions completing English garden.
A number of merchants of Old Yerevan should be outlined as they were not only outstanding figures but also were considered "fathers" of the city. A magnificent building of famous merchant Hakob Khorasanyan was located in Astafyan street. Storehouses full of textiles and metallic goods were in the basement. The owners lived on the second floor. There was a separate, richly-furnished floor for guests. This building was one of the first hotels of Old Yerevan not including the caravansaries remained from the Persian times. Hakob Khorasanyan's wife, Shamiram, was from the Mamikonyans clan. The house of Yegor Khanzadyan with a unique Saxon style trade hall was in Astafyan street too. The advertisements of Khanzadyan were printed in "Erivan's announcements" newspaper. The House of Barsegh and Grigor Buniatyans was in Astafyan street too. Barsegh was a well-known merchant and a public figure, delegate of the City Duma. The beautiful mansion of Aram Buniatyan was in Berd street. On the first floor there was a shop, a pharmacy next to it, and above it was a hall were eminent figures of the city used to gather. It was an aristocratic club where concerts and performances were organized.
According to A. Hakobyan's "History of Yerevan", in 1863 there were 244 "Bazazes" living in Yerevan. The merchants were divided into guilds in accordance with their properties. There were three guilds. All mentioned-above merchants belonged to the 1st guild. People called them "guild merchants". Boasting and self-concentrated people were often teased "You are like a guild merchant". Due to the efforts and finances of these people was constructed the Yerevan horse-drawn tram and the water-supply system. The donated money for restoration of churches and built St. Gregory the Illuminator's church which was later ruined. Today, the school after Ye. Charents is in the place of the church.
The next class of merchants were people engaged import of jewelry and precious stones from European countries. Many jewelers worked in Old Yerevan. The made gold jewelry in a traditional style. When Gegham and Hovhannes Mnatsakanyans opened a saloon decorated with mirrors and beautiful wallpapers they attracted the old craftsmen who were seeking for something new.
The third merchant class was called "Attars" (the name remained from the Persian period). They were mainly engaged in the trade of local goods: bought cheap and sold expensive.
The next class of merchants was called "Alafs". It was engaged in agriculture products. They imported grains, wool, rice. Leather was of great demand as the leather factory of Aram Gabrielyan needed a lot of raw materials.
Raffi had a description of one merchant's trade in a village. The merchant comes to the village with a big cart, took out big scales from it. The villagers bring wool and put it on the scales. The merchant says that he has forgotten to bring the weights. To save the situation he assures that his foot weighs a pound and standing at the scales he puts his foot on the scales pressing it as much as he can.
"Bakhkals" were the merchants selling fruits. Many of them owned small shops in the streets and at the markets. The group of them, like in old Tbilisi, walked along the streets with big trays.
The last group of merchants were those who sold drinks –"Dukanchi" (or "Mikitanchi"). The usually had dukans (shops) at the market places, sold drinks, mainly wine. They also lived in other regions.
Perch Proshyan in his novel called "Because of bread" created a collective character of Mikitan Sako, a very popular character in those times. Mikitanchi fooled customers adding water to wine. Mikitan Sako teaches other Mikitanchi: "Nobody can be blamed: everyone searches for daily bread, it is an issue of daily bread.."
In Old Yerevan the number of Dukanchi was not big, only 63, but they were well-known ( particularly due to the character of Mikitan Sako created by Perch Proshyan).
Edward Avagyan
Researcher at Yerevan History Museum